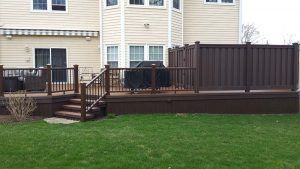 Everyone needs a little privacy. If you live close to your neighbors or next to a busy road, you can understand the value of privacy while you're outside on your deck. Those prying eyes of neighbors and passersby can be too much and can take away from enjoying time with your family. But what can you do? We here at Miles Bradley can think of a suggestion!
It's amazing what a privacy wall can do to help you feel a little relief. It's a simple thing that can give you the retreat that you and your family need to enjoy the outdoors. Also, it's especially nice if you have an outdoor pool or hot tub on your deck and don't want your neighbors' eyes on you and your family
Getting a Privacy Wall Built on Your Deck or Patio
Building deck walls for privacy can do more than just give you a feeling of sanctuary in your own neighborhood but also act as a way to stay safe from the elements. A privacy wall on your deck or patio can block wind, rain, and snow that Michigan produces all year round. With a privacy wall, you can get out in your hot tub in the winter without the wind and snowmaking it unbearable.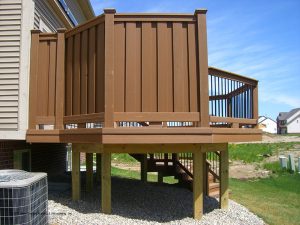 Not only do privacy walls on your deck give you these benefits, but they also add a visual element to your deck. We can help you design the privacy wall of your dreams. We can give you options for your wall that can take your deck from drab to fab.
If you've been wanting to build a privacy wall for you and your family, we here at Miles Bradley can help! We build all year round and can get your privacy wall or fence up in time for hot tub season so you and your family can have a little privacy while enjoying your deck. Finally, click here for a free quote on a privacy deck wall.
Posted In: deck wall, New Deck Projects
Tags: deck accessories, deck wall, privacy, Privacy wall