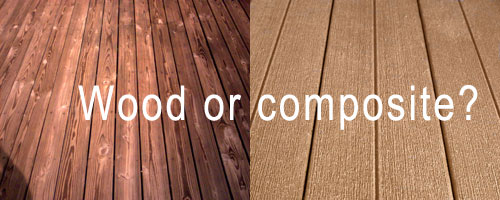 Are you in the market for a new deck? Does your home look like it's missing something? A deck is a great way to go! Whether you're replacing a new one or adding a deck to your home, your deck becomes part of your home and it is important to choose the right materials to use. Choosing what materials to have your deck built out of is one of the first things to decide. You have two main choices; composite wood or natural wood.
Composite Wood Difference
To decide which one suits better for you and your home you will need to consider four things;
How much maintenance and repair you will be willing to do in the future
The life span of the different materials
Your deck's appearance
The cost of the different types of deck material.
When choosing natural wood you will need to stain and seal your deck every year. Composite decking requires less maintenance than natural wood material. Composite wood will need to be cleaned but will not need to be stained like natural wood.
To consider the life span of the different materials you have to assess that wooden decks can crack and splinter from weather conditions and can also get more damaged from water and rot if they are not maintained properly. To repair wood decks can be stained and replaced if necessary. Composite decks do not crack or splinter but can fade and warp. They also have a tendency to scratch and stain. To repair composite decks can replace the scratched, warped, or faded pieces.
Composite Wood or Wood Deck Which To Choose
Choosing what type of appearance you want your deck and home to have is very important. Composite deck materials are made to look like wood and vary less in appearance than natural wood. It is not stainable and if it fades it will need to be replaced rather than stained. Natural wood decks are more attractive and can add a lot of value to your property. There are many stains and types to choose from than composite deck materials and can be re-stained when the color starts to fade not have to be replaced.
The final decision is cost; Natural wood tends to be less expensive than composite deck materials.
This decision will depend on preference and what works better for you and your home, there are pros and cons to both types. Whichever you decide you, your family, and guests will have a wonderful deck for years to come and we can build it for you!
Posted In: Miles Bradley
Tags: build deck, composite deck material, composite decking, decking material, decks, miles bradley, natural wood