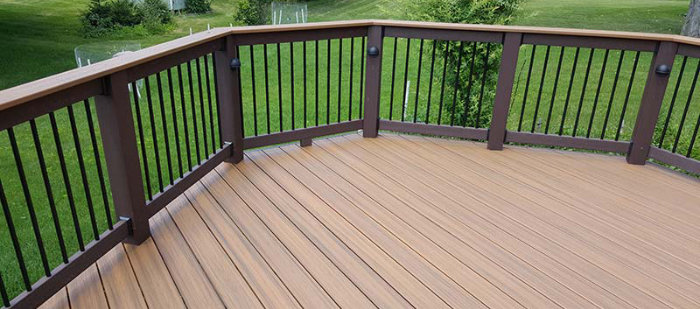 The best composite deck builder in Michigan or Illinois is Miles Bradley Building and Remodeling.  In addition, Mile Bradley has been installing composite decks for over three decades. As a certified Trex contractor, Miles Bradley can build your new deck to look exactly how you wanted it. Adding a deck to your home is always a great idea. It will add to the curb appeal and overall value of your home.
Trex Composite Deck Building
We always highly recommend Trex or another composite decking.  Of course, we do also install wood decks as well, but composite decks have some distinct over wood. One great advantage Trex decking has is its durability.  Trex decking can resist fading, scratching, staining, and mold that wood decks experience. Another advantage is the low maintenance to maintain a Trex deck. Wood decks require sanding or painting, while a Trex deck does not.
Sustainability is a big part of a composite deck. Composite decks have less of an environmental impact than a more traditional wood deck. Composite decking is made from recycled materials to create the decking. Aesthetics is also another advantage. Composite decks will give you a large choice of colors to choose from. With rich colors and nice accessories, composite decking is always a great choice. Finally, value is an advantage.
With next to no ongoing maintenance and easy to maintain, the price of the composite deck pays for itself in ten years. As you can see there are quite a few advantages for low-maintenance composite decks. Hire an experienced and highly recommended deck builder in Miles Bradley Building and Remodeling. Miles Bradley services all of Michigan and Illinois and can have your deck up and installed before you know it.
Contact us today for more information about your new composite deck or give us a call at 248-478-8660.
Posted In: Deck Builders
Tags: composite deck, deck building