If you've never experienced the luxury and bougieness of a pergola, you're missing out! Pergolas are a beautiful way to increase your outdoor living space. In addition to beautiful design, they also provide a shady garden feature to walkways, decks, or outdoor sitting areas.
While we may highlight the practical uses, adding a pergola to your home will increase your home's resale value in the long run. If you're unsure of what a pergola is, let us explain them. Pergolas are known by their vertical pillars that support either cross beams or open lattice. The most common sight on a Pergola is climbing vines, hanging lights, or curtains, all of which make the pergola stand out and look beautiful. 
Why should I get a pergola?
Pergolas are wonderful because not only do they enhance your outdoor space, but they are also functional as well. They add an extra usable space on your deck or garden that can provide a layer of shade between you and the hot summer sun. If your Pergola is big enough, entertaining your guests in a cozy and warm environment will make your next dinner party feel fabulous. Being able to lounge under the shade on your porch or back deck is a wonderful feeling. In addition to letting you be outside longer and more comfortably, pergolas add more to your home's value as well.
Pergola Vs.Gazebo Vs. Arbor vs. Trellis Vs. Lattice
Pergola Vs. Gazebo
The biggest difference between a gazebo and a pergola is that gazebos are almost always shaped like an octagon with a roof over top. Pergolas do not have covered roofs and are generally square with exposed beams.  
Pergola Vs. a Trellis
A Trellis is different from a pergola in that it consists of latticework that is attached to a structure for vines to climb on. Whereas a pergola has larger columns and (most popularly) have horizontal planks of wood on top.
Pergola Vs. Arbor
Arbors are small archways that can be used for climbing plants to use as lattice as they grow. While pergolas and arbors both have the same vine climbing feature, pergolas are much biggest and more structurally sound.
No matter what kind of structure you're looking for in your backyard Miles Bradley can help! We have been building pergolas, gazebos, and trellises for our clients in South East Michigan for over 25 years. We've had clients from Brighton, Livonia, to Farmington Hills and Southfield. So why wait? Get a free quote on your next project today!
So, you've just bought a new home in Farmington Hills and everything about it is beautiful. It has everything you've ever wanted in a home. A huge cherry blossom tree in your front yard, the trim around your windows, the white brick fireplace, the finished basement, the masonry chimney, the fluorescent lighting around your deck. Everything that makes your dream home perfect is displayed right before your very own eyes. But, something is missing–and you know it. What could it be?
Adding a trellis, pergola, or columns would make a great addition to your backyard. Not only are they versatile, but they add a certain elegance to your yard and home. They provide shade, privacy, and add to the value of your home. We give out custom quotes to many homeowners in places like Novi, Brighton, and Farmington Hills!
If you need a few more reasons why a trellis and/or pergola would be an excellent addition to your home, we can think of a few!
Trellis
Trellis fences are very popular features in many gardens. The fence is actually made up of a lattice architectural framework that consists of either wood, metal or vinyl. Trellis can be installed independently, with help of cement, or attached to something already in place. This type of fence provides a simple, yet chic look to your garden and yard. Some advantages of having a trellis are:
It's affordable
It's super easy to install
It provides a strong support system to your garden
It can be used for many exterior projects
It can be used to divide your garden into sections, thus creating diversity
It creates an aesthetic appeal to your garden
It can be used to hide the imperfections of your garden
It can be used as a privacy screen/wall
It allows some shade to your plants and flowers
Pergolas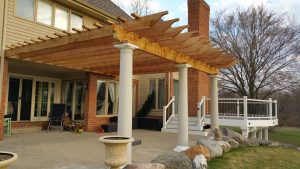 Pergolas are crafted with beams and support posts to help break up the sunlight of spring or summer. With its airy feel to it, they provide an inviting space which allows for people to relax, dine or admire the view. Pergolas can also be decorated with fabric or hanging planters to give it a "pop". A few advantages of pergolas are:
It is good for creating shade
It gives off an aesthetic appeal
It helps create a visual interest in a minimalistic backyard
It is inexpensive
It can be used as a DIY project
It lends support to and is perfect for climbing roses and growing vines
It defines spaces
It is much larger than arbors
It is generally freestanding, but can be attached to another building
Get Your Trellis or Pergola Installed Today!
If you are currently looking for a company to install your trellis or pergola in the Brighton, Novi or Farmington Hills area, please do not hesitate to contact Miles Bradley. We would be honored to help make your dream home that much more elegant. We'll even give you a free quote so you can plan!
Trex Deck Builders Wixom, Novi, Commerce Twp, South Lyon, Orchard Lake
Here at Miles Bradley, we're more than just a great deck builder! We can also build your dream 3 season room, patio, or custom pergola in the Metro Detroit area. Check out these local custom project built by Miles Bradley.
Location: Wixom, MI
You can see this custom made 3 seasons room was just the touch this house need to be able to enjoy Michigan's seasons while in the comfort of their own home. Finished off with cedar and T&G trim that made this custom order have the warm finishing touches it needed.
Final Price: $30,000
---
Location: Novi, MI
This three season addition has taken the indoor/outdoor room to the next level. They added a gas fired fireplace and an indoor bar to entertain guests in style. They added coffered ceilings, lights, and fans to make their porch into the main place to be in any of the seasons!
Final Price $38,000
---
Location: Orchard Lake, MI.
This little walk out deck was just what this house needed to finish off their stone patio. You can see how the bent glass rail compliments the house and the stone patio. They wanted a low maintenance Trex deck so they wouldn't have to worry about regular maintenance on their deck. The Trex Transcend decks are made for customers who want a deck that won't succumb to the wear and tear that our Michigan seasons can produce. Read more about them here.
Final Price: $20,000
---
Location: South Lyon, MI
The property owners of this walkout level screened in porch had a view, and they wanted this addition to compliment it. We were able to add on the multi-level deck with the Trex Transcend Deck system with rail steps so they didn't have to worry about cleaning or fading. This deck created space to be in the winter and space outside for the warmer months. We loved it!
Final Price: $50,000
---
Location: Commerce, MI
We do more than just decks! Here you can see an elegant cedar timber pergola with round columns that we built for this client in Commerce Michigan. We wanted to upgrade their outdoor experience and give them the best service in the process.
Final Price: $10,000
So if you want to create the deck of your dreams let us help!
Pergolas and gazebos are becoming more popular additions to add value to your home. Have you recently had a pergola or gazebo added to your deck or yard in Michigan? If so, you may be wondering how you can decorate it for the winter. There are many creative decorating ideas for pergolas or creative decorating ideas for gazebos that will turn heads. Of course without any work at all, the wood stain against Michigan's bright white snow is beautiful in itself, here are some simple additions that will  truly make your pergola or gazebo stand out.
Gazebo Lighting
Adding simple holiday lighting to your pergola or gazebo will create a stunning ambiance that will illuminate your structure. Whether you select a basic white lighting or other color, it will reflect beautifully off of accumulated snow. Because of the unique structure of your custom pergola or custom gazebo, your lighted snow covered gazebo or pergola is sure to produce a great photo op!
Greenery
Whether you go with a faux garland or choose real evergreen, you will create a stunning contrast to your pergola or gazebos finish. Garland can be wrapped around the posts of the bottom of your gazebo of pergola, or draped from the roof. You may also choose to incorporate your lighting into your greenery by twisting it around as you would for holiday decorations. Some even add red bows in the center of draping or at the top of posts wrapped in garland to really add a holiday touch.
Whether or not you choose to decorate your gazebo or pergola is completely up to you. Check out some of the awesome winter decoration ideas for pergolas or winter decoration ideas for gazebos that we have found on Pinterest.
If you haven't contacted us to have a pergola or gazebo added to your home, its not too late. In fact, this is the perfect time to schedule your pergola construction or gazebo construction in Michigan. With off season building you can save up to 20% on your project! Contact Miles Bradley today for more information.