Do you have a big backyard with a little too much open space in it? Maybe you want a place near your garden to sit and admire it from up close, or somewhere outdoors to host summer dinner parties or family get-togethers in, especially if you have people flowing out of your house during reunions already. If this is your line of thinking then a gazebo might be right up your alley!
Totally customizable, the deck building professionals at Miles Bradley can build your gazebo with or without a copula and top it off with whatever style of roof you prefer, including but not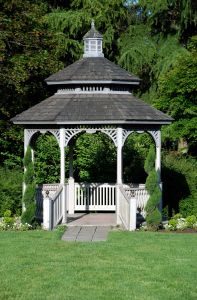 limited to:
Bell Shape
Double Stacked
Slotted
Square
Gazebo Built From Miles Bradley
As always, you can choose whatever type of wood you want your gazebo to be built out of. We can also add screen or storm windows if you'd prefer. So you have a place to hide if you get stuck outside during a storm! And, did you know that high-quality wood or composite gazebos from Miles Bradley can add value to your Michigan property? A gazebo equipped with lighting, seating, or other accessories is almost like another room in your house!
From a place to shelter your hot tub to somewhere to relax with family and friends and enjoy nature, there are endless ways to enjoy a gazebo in Michigan! Being that springtime is still a few months away, you still have time to save cash by having your gazebo built during the off-season. Don't wait until spring or summer when our deck building professionals have a job after job lined up. Contact us to get your gazebo built now, for less money and in less time!
Enjoying the outdoors, hosting friends and family, and having a grill space for your inner grill master, with the custom deck of your dreams! We here at Miles Bradley Building and Remodeling in Illinois want to build your dream deck this year. We will help you every step of the way from brainstorming to planning, blue prints and then building your custom deck, all while you watch it come alive. Let us show you some pictures of custom decks we've built in the past year for some inspiration!
Custom Deck Design
 Elgin, Illinois
It's amazing what a deck can do for a house. Not only are you increasing your property value, but you are also creating space to entertain and enjoy the great outdoors. As you can see from this deck picture, these guys took their backyard up to the next level with a Trex Trancend deck with Aluminum Rail. This house went from drab to fab overnight, and will last long enough for you and your guests to enjoy it.
Price: $20,000
Multi-level Composite Decking Design
Elk Grove Village, IL
If you've ever dreamed of getting a pool, but couldn't justify getting an in-ground pool, this is a great alternative. This family bought an above ground pool, then we built the multi-level deck around it. Not only do they now have space for the pool and the hot tub, but they also created an area to entertain guests comfortably around the above ground pool. What we like most about this design is the how the multi-level deck created a space to keep the hot tub isolated away from the elements and give the owners a little privacy. Along with providing a classy and easy accessible way to enter the pool.
Price: 40,000
Low Maintenance Custom Design Trex Deck
Hoffman Estates, IL
This was another customer who wanted to have a space to entertain guests and be able to cook out without worrying about their deck getting damaged. They wanted to utilize the Trex Transcend low maintenance composite deck material, so cleaning up after a night with guests would be a breeze. Trex is known for their mold resistant, scratch resistant deck material made for recycled material, so you know your in good hands. As you can see, the product can speak for itself when it comes to look.
Price: 40,000
Trex Transcend Deck with Hot Tub Privacy Gate
Palatine, Illinois
This particular customer wanted to have a deck that would be low maintenance, easy to clean and give them the privacy they wanted when they use their hot tub. So we built them a deck that utilizes Trex Transcend Deck for a low maintenance, fade resistant, easy to clean deck they could enjoy all year round. We included a composite wall with a gate so they could have the privacy they desired for their hot tub. We love how it came out.
Price:  $35,000
Cedar Gazebo Deck Project
St. Charles, IL
We're not just one the best professional deck builder in Illinois (and Michigan), but we can also will help you build the gazebo of your dreams. Here you can see a job we did in St. Charles, Illinois. We helped this owner not only create a wonderful outdoor/indoor screened in gazebo space, but we also helped them build up the deck of their dreams. We custom built their deck in Western Red Cedar and complimented it with aluminum Balusters, rail lighting, and topped it off with shingles that matched their houses roof.
Miles Bradley Building & Remodeling, Inc. in Illinois is located at; 3 Golf Center #403, Hoffman Estates, IL 60169. Reach us at 
(847) 920-7601. We've got the experience, skill, and professionalism you look for when building your perfect deck. If you want to start down the road to get your newest and best home accessory, we can help. Request a quote anytime on your dream deck project.
Pergolas and gazebos are becoming more popular additions to add value to your home. Have you recently had a pergola or gazebo added to your deck or yard in Michigan? If so, you may be wondering how you can decorate it for the winter. There are many creative decorating ideas for pergolas or creative decorating ideas for gazebos that will turn heads. Of course without any work at all, the wood stain against Michigan's bright white snow is beautiful in itself, here are some simple additions that will  truly make your pergola or gazebo stand out.
Gazebo Lighting
Adding simple holiday lighting to your pergola or gazebo will create a stunning ambiance that will illuminate your structure. Whether you select a basic white lighting or other color, it will reflect beautifully off of accumulated snow. Because of the unique structure of your custom pergola or custom gazebo, your lighted snow covered gazebo or pergola is sure to produce a great photo op!
Greenery
Whether you go with a faux garland or choose real evergreen, you will create a stunning contrast to your pergola or gazebos finish. Garland can be wrapped around the posts of the bottom of your gazebo of pergola, or draped from the roof. You may also choose to incorporate your lighting into your greenery by twisting it around as you would for holiday decorations. Some even add red bows in the center of draping or at the top of posts wrapped in garland to really add a holiday touch.
Whether or not you choose to decorate your gazebo or pergola is completely up to you. Check out some of the awesome winter decoration ideas for pergolas or winter decoration ideas for gazebos that we have found on Pinterest.
If you haven't contacted us to have a pergola or gazebo added to your home, its not too late. In fact, this is the perfect time to schedule your pergola construction or gazebo construction in Michigan. With off season building you can save up to 20% on your project! Contact Miles Bradley today for more information.