Do you have a big backyard with a little too much open space in it? Maybe you want a place near your garden to sit and admire it from up close, or somewhere outdoors to host summer dinner parties or family get-togethers in, especially if you have people flowing out of your house during reunions already. If this is your line of thinking then a gazebo might be right up your alley!
Totally customizable, the deck building professionals at Miles Bradley can build your gazebo with or without a copula and top it off with whatever style of roof you prefer, including but not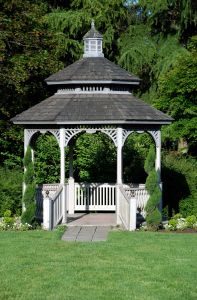 limited to:
Bell Shape
Double Stacked
Slotted
Square
Gazebo Built From Miles Bradley
As always, you can choose whatever type of wood you want your gazebo to be built out of. We can also add screen or storm windows if you'd prefer. So you have a place to hide if you get stuck outside during a storm! And, did you know that high-quality wood or composite gazebos from Miles Bradley can add value to your Michigan property? A gazebo equipped with lighting, seating, or other accessories is almost like another room in your house!
From a place to shelter your hot tub to somewhere to relax with family and friends and enjoy nature, there are endless ways to enjoy a gazebo in Michigan! Being that springtime is still a few months away, you still have time to save cash by having your gazebo built during the off-season. Don't wait until spring or summer when our deck-building professionals have a job after job lined up. Contact us to get your gazebo built now, for less money and in less time!
Pergolas and gazebos are becoming more popular additions to add value to your home. Have you recently had a pergola or gazebo added to your deck or yard in Michigan? If so, you may be wondering how you can decorate it for the winter. There are many creative decorating ideas for pergolas or creative decorating ideas for gazebos that will turn heads. Of course, without any work at all, the wood stain against Michigan's bright white snow is beautiful in itself, here are some simple additions that will truly make your pergola or gazebo stand out.
Gazebo Lighting
Adding simple holiday lighting to your pergola or gazebo will create a stunning ambiance that will illuminate your structure. Whether you select basic white lighting or another color, it will reflect beautifully off of accumulated snow. Because of the unique structure of your custom pergola or custom gazebo, your lighted snow-covered gazebo or pergola is sure to produce a great photo op!
Greenery
Whether you go with a faux garland or choose a real evergreen, you will create a stunning contrast to your pergola or gazebo finish. Garland can be wrapped around the posts of the bottom of your gazebo or pergola or draped from the roof. You may also choose to incorporate your lighting into your greenery by twisting it around as you would for holiday decorations. Some even add red bows in the center of draping or at the top of posts wrapped in garland to really add a holiday touch.
Whether or not you choose to decorate your gazebo or pergola is completely up to you. Check out some of the awesome winter decoration ideas for pergolas or winter decoration ideas for gazebos that we have found on Pinterest.
If you haven't contacted us to have a pergola or gazebo added to your home, it's not too late. In fact, this is the perfect time to schedule your pergola construction or gazebo construction in Michigan. With off-season building, you can save up to 20% on your project! Contact Miles Bradley today for more information.