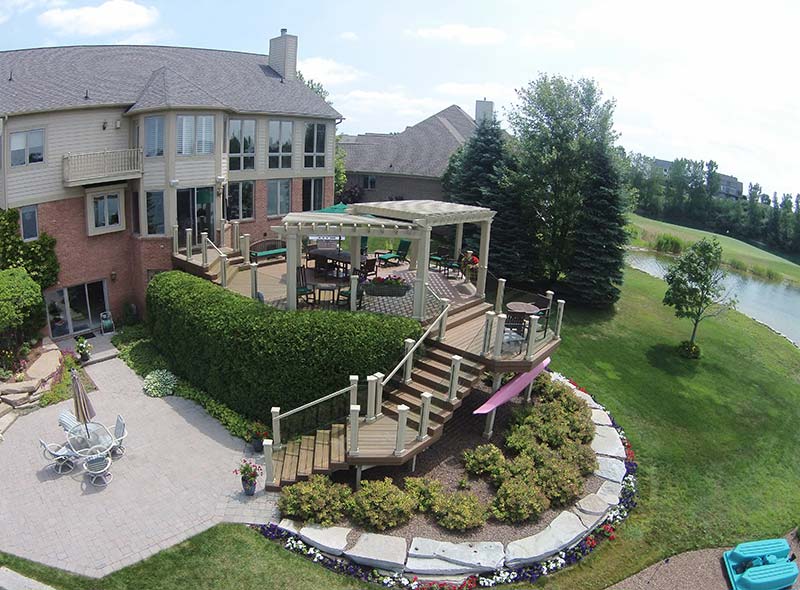 Are you looking for a deck builder near you in Farmington Hills? Here at Miles Bradley, we build composite decks in Farmington Hills. While they are stable and dependable, they are also unmatched in beauty. With decades of experience and customer satisfaction, we are there to help you make the custom deck of your dreams.
Farmington Hills is a beautiful and prosperous Michigan city. The schools are top-of-the-line and the area is shrouded in wealth. The beautiful houses should be accompanied by beautiful custom decks! A nice deck can make or break your home, so why not aim for the best?
Why a Composite Deck?
Unlike a wood deck which shows its age over the years, low-maintenance composite decks are built to last. Composite decks are made from Trex materials that can withstand harsh Michigan weather patterns. That is why more and more homeowners are seeing the benefits of low-maintenance composite decks. They maintain their beauty for a longer amount of time and by requiring little-to-no maintenance, they are practical for anyone. Furthermore, there are several advantages to having a composite deck.
The deck boards are made from recycled materials so you will not have to worry about killing trees in order to get new wood.
Composite decking is designed to resist scratching, fading, staining, and mold. Also, unlike wood, composite decks are insect-proof so you have no threat of infestation or material damage.
At first, a composite deck will be higher a cost but in the long run with way less maintenance and longer durability, you will save money.
Contact
If you are interested in building a new composite deck, contact Miles Bradley right away! We treat your home like it is our own, the care only expected of family. The best place to go for a new deck is here with our decades of experience and customer satisfaction. Finally, request a quote from us today!
Here at Miles Bradley, we strive to provide the best and highest quality service to our clients. We have been committed to giving our clients competitive pricing and the highest quality experience in the industry. For over 25 years we have proven time and time again that we are the best deck builder in Michigan and Illinois, and we have the awards to prove it.
It started back in 1991 when our owner Paige Bradley Wedgle wanted to create a custom deck designing and building company. Over 25 years and countless awards later Miles Bradley has two locations and many happy clients. We made sure that from concept to completion that your deck is perfect. You can see our portfolio or work that we've done over the years, from decks to gazebos, and three seasons room, we've done it all.
Custom Structures and Patios We Excel At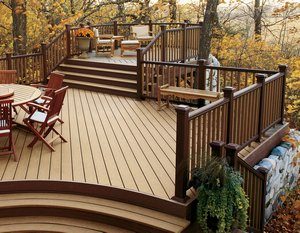 Custom Deck Designs
Whether it's a multi-level deck, wrap-around deck, or a hot tub addition, we can build it. There are several examples of how we were able to custom fit and design each deck to suit our client's needs. Our expert team of designers will create a mock-up and give you the deck of your dreams.
Composite Decks
If you want a deck that is low maintenance, easy to clean, and will stand the test of time composite decking is for you. We wanted to provide a lasting solution to deck longevity, which is why we became Trex platinum-certified. Trex decking not only has longevity and is easy to clean but it's also made from recycled materials and is eco-friendly. Check out more information about Trex decking here.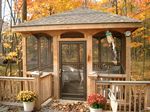 Pergolas, Trellises, and Privacy Walls
If you have a deck, but it's missing a certain.. something we recommend adding a Pergola, Trellis, or privacy wall for added comfort. Not only will you create an ambiance and increase your home's value in the process!
Want to see what else we can do? Check out our online portfolio 
IF you want to be able to enjoy the Michigan summer on your new deck, book your deck installation soon! Our books are wide open during this time of year, so get your date booked today!
Enjoying the outdoors, hosting friends and family, and having a grill space for your inner grill master, with the custom deck of your dreams! We here at Miles Bradley Building and Remodeling in Illinois want to build your dream deck this year. We will help you every step of the way from brainstorming to planning, blueprints, and then building your custom deck, all while you watch it come alive. Let us show you some pictures of custom decks we've built in the past year for some inspiration!
Custom Deck Design
 Elgin, Illinois
It's amazing what a deck can do for a house. Not only are you increasing your property value, but you are also creating space to entertain and enjoy the great outdoors. As you can see from this deck picture, these guys took their backyard up to the next level with a Trex Transcend deck with Aluminum Rail. This house went from drab to fab overnight and will last long enough for you and your guests to enjoy it.
Price: $20,000
Multi-level Composite Decking Design
Elk Grove Village, IL
If you've ever dreamed of getting a pool, but couldn't justify getting an in-ground pool, this is a great alternative. This family bought an above-ground pool, then we built the multi-level deck around it. Not only do they now have space for the pool and the hot tub, but they also created an area to entertain guests comfortably around the above-ground pool. What we like most about this design is how the multi-level deck created a space to keep the hot tub isolated away from the elements and give the owners a little privacy. Along with providing a classy and easily accessible way to enter the pool.
Price: 40,000
Low Maintenance Custom Design Trex Deck
Hoffman Estates, IL
This was another customer who wanted to have a space to entertain guests and be able to cook out without worrying about their deck getting damaged. They wanted to utilize the Trex Transcend low maintenance composite deck material, so cleaning up after a night with guests would be a breeze. Trex is known for its mold-resistant, scratch-resistant deck material made for recycled material, so you know you're in good hands. As you can see, the product can speak for itself when it comes to looking.
Price: 40,000
Trex Transcend Deck with Hot Tub Privacy Gate
Palatine, Illinois
This particular customer wanted to have a deck that would be low maintenance, easy to clean, and give them the privacy they wanted when they use their hot tub. So we built them a deck that utilizes Trex Transcend Deck for low maintenance, fade-resistant, easy to clean deck they could enjoy all year round. We included a composite wall with a gate so they could have the privacy they desired for their hot tub. We love how it came out.
Price:  $35,000
Cedar Gazebo Deck Project
St. Charles, IL
We're not just one the best professional deck builder in Illinois (and Michigan), but we can also help you build the gazebo of your dreams. Here you can see a job we did in St. Charles, Illinois. We helped this owner not only create a wonderful outdoor/indoor screened-in gazebo space, but we also helped them build up the deck of their dreams. We custom-built their deck in Western Red Cedar and complimented it with aluminum Balusters, rail lighting, and topped it off with shingles that matched the roof of their house.
Miles Bradley Building & Remodeling, Inc. in Illinois is located at; 3 Golf Center #403, Hoffman Estates, IL 60169. Reach us at (847) 920-7601. We've got the experience, skill, and professionalism you look for when building your perfect deck. If you want to start down the road to get your newest and best home accessory, we can help. Request a quote anytime on your dream deck project.
Custom Deck Building Designs 
Summer is on its way, and with summer comes the time to reconnect with the great outdoors. Why not reconnect from the comfort of your own home with a new custom-built deck? Get the deck of your dreams this year with help from Miles Bradley Building and Remodeling. We've designed custom decks all over the greater Detroit area. We've picked a few custom deck projects from the White Lake area that are highlighted below from last year.
Custom Decks White Lake, Michigan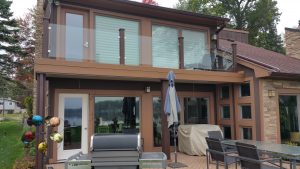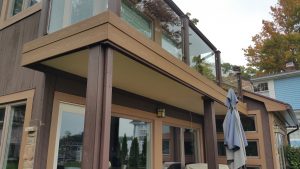 Here you can see a custom-built two-story Trex Transcend Deck. This particular client wanted to have a good view of the second story while allowing for space on their lower-level deck for a place to entertain guests.
The Trex system is great for them because they wanted a low-maintenance deck that won't fade after years of use. The best part of this design? The beautiful custom Tempered Glass Railings And Under Deck Water Diversion System. Located In White Lake, MI Price $14,000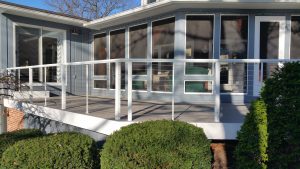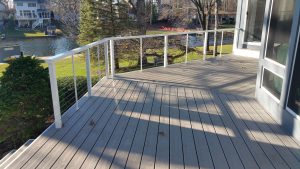 Here is another wonderful custom deck that we put together in White Lake. It's right on the water so we designed this deck to highlight the beautiful view of the water.
We used the  Trex Transcend Deck so they don't have to worry about the upkeep and hassle of a traditional wood deck. Another great feature on this deck is the stainless steel cable rail. Sleek, clean, and allows for great views of the lake.
Final Price $18,000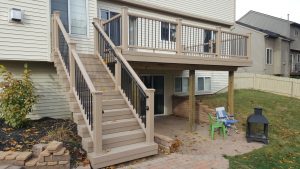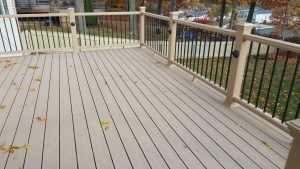 Here is another custom-built deck that was built with the Trex Transcend System. These decks make for great low-maintenance backyard living.
We added lights in the staircase for safe and easy travel up and down the stairs. As you can see from the bottom image, they added lighting on the deck as well. These clients wanted to be able to extend their evenings on their deck.
Located In White Lake, MI.
Price $16,000
If this is the year you want to get the deck of your dreams, let us help! Contact us today, and let us help build your deck today!