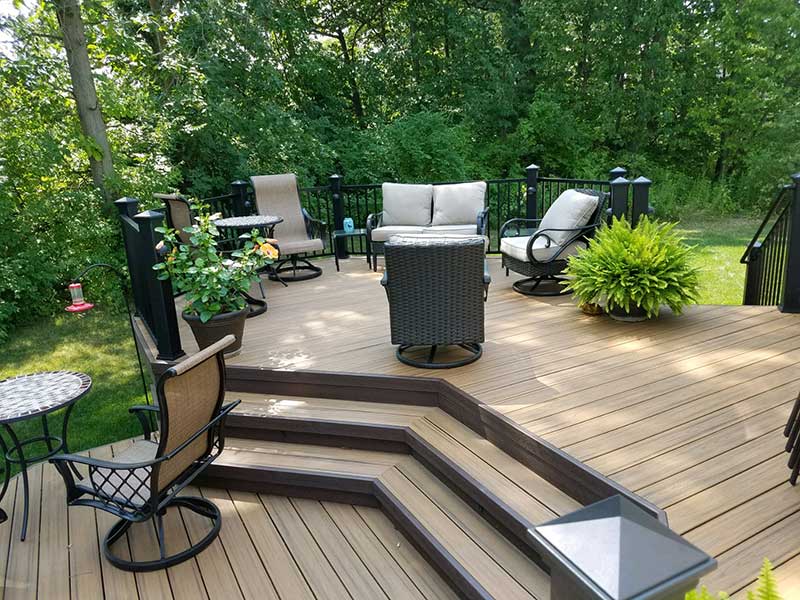 Getting a deck built is a big decision to make. Consider these 2 things before getting your deck built.
Things to Consider – How do you want to use your deck?
Comfort
Did you just want to create a snug spot in the backyard for you and your family? Design your deck to accommodate lounge chairs and a patio set based on how many people are in your family. Also, try to plan ahead for sunny spots by building a shade with greenery or build a shade.
Parties
Most decks are designed to support up to 60 pounds per square foot including the weight of the deck.  Overloading it could be very dangerous.  If you plan to have huge parties or heavy furniture, you may want to have a stronger supporting structure built. You also want to make sure that your deck is large enough to fit a lot of people, furniture, and appliances.
How do you want your deck to look?
There is a wide variety of materials that you can choose to have your deck built from as well as many benefits that go along with each type of material.
Pressure- Treated Wood: This type of wood takes stains and waterproofing easily. It is also cheaper than many of the other options for deck building in Michigan or Chicago
Composite Decking: This wood-look alternative is known for its long-lasting nature and durability. You can get composite decking in a variety of colors or textures. Composite decking doesn't splinter, crack, warp, or rot significantly reduced the need for maintenance.
PVC Cellular Decking: PVC is easy to clean and not prone to rot or termites which makes it stand out over wood. Having a cellular PVC deck built can be beneficial as it is moisture resistant and will not swell or shrink with temperature changes.
Cedar: Used for decks has a natural insect resistance which can help eliminate termite problems that often arise in regular wood decks. Cedar decking is very easy to work with during installation and can be easily stained.
After selecting the material that you wish to have your deck built you then need to decide where do you want your deck or patio to be built? Can you accommodate the lifestyle that you want to live on your deck or patio?  Based on this, plan how you want to build your deck in Michigan or Chicago.
Finally, contact Miles Bradley to get started on building your dream deck today!