Here at Miles Bradley, we strive to provide the best and highest quality service to our clients. We have been committed to giving our clients competitive pricing and the highest quality experience in the industry. For over 25 years we have proven time and time again that we are the best deck builder in Michigan and Illinois, and we have the awards to prove it.
It started back in 1991 when our owner Paige Bradley Wedgle wanted to create a custom deck designing and building company. Over 25 years and countless awards later Miles Bradley has two locations and many happy clients. We made sure that from concept to completion that your deck is perfect. You can see our portfolio or work that we've done over the years, from decks to gazeebos, and three seasons room, we've done it all.
Custom Structures and Patios We Excel At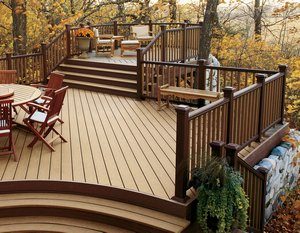 Custom Deck Designs
Whether it's a multi-level deck, wrap around deck, or a hot tub addition, we can build it. There are several examples of how we were able to custom fit and design each deck to suit our client's needs. Our expert team of designers will create a mock-up and give you the deck of your dreams.
Composite Decks
If you want a deck that is low maintenance, easy to clean, and will stand the test of time composite decking is for you.We wanted to provide a lasting solution to deck longevity, which is why we became Trex platinum certified. Trex decking not only has longevity and is easy to clean but its also made from recycled materials and is eco-friendly. Check out more information about Trex decking here.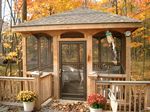 Pergolas, Trellises, and Privacy Walls
If you have a deck, but it's missing a certain.. something we recommend adding a Pergola, Trellis, or privacy wall for added comfort. Not only will you create an ambiance and increase your home's value in the process!
Want to see what else we can do? Check out our online portfolio 
IF you want to be able to enjoy the Michigan summer on your new deck, book your deck installation soon! Our books are wide open during this time of year, so get your date booked today!
Groundhogs day and came and went, and the prediction was bleak. Even though Punxsutawney Phil, the famous groundhog, saw his shadow we won't let that get us down.  Being outside in the cool spring air or the summer sun on a new deck is the only way to enjoy your home. Winter may be in full swing for another 6 weeks but you should start planning for Summer. If you envision BBQs and family time out on a new deck, three seasons room, or pergola, nows the time to book your install date. Hire Miles Bradley now to ensure your summer dreams of a new deck come true!
The great outdoors can be that much better with an outdoor patio, three season room, or pergola addition! Being able to be outside while still being at you home is a luxury and increases your home's resale value. When you add a deck to your home, you're not only increasing the space that you can use in your home, you're also investing in your home.
Why Should I Schedule My Spring Or Summer Deck Installation Now?
The best time to book your deck installation is during the slow periods for deck installers. Since installing decks is seasonal, now is the best time while the ground is frozen. As they say "The early bird gets the worm" and the same is true with scheduling your patio, three seasons room, or pergola installation.
During the winter months, our schedules are wide open and ready for your spring deck installation. Since we book up quickly closer to the spring, now is the best time to get your ideal installation date. In some cases, people who wait too long to schedule their deck install have to wait and miss out on summertime spent outdoors.
So don't wait for Spring before you book your install. Call or contact us today and get your date locked in! Don't say we didn't warn you.