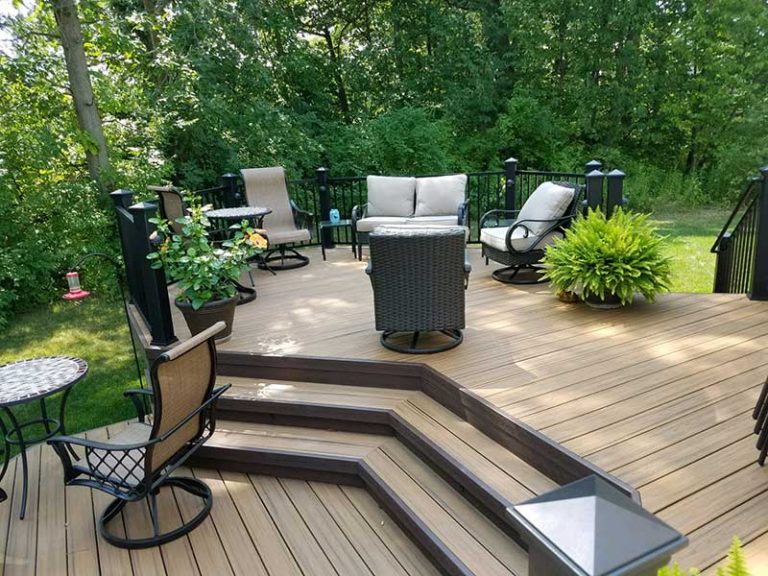 What is the best time to have a deck built? Peering out your window into the backyard and seeing all that snow and ice probably doesn't make you think about the spring and summertime…but it should! Just imagine lounging on your beautiful, custom-made deck this summer. Now imagine lounging on it with a bunch of extra cash! Because you can save by thinking ahead and getting your low-maintenance deck built!
Best Time to Build a Deck
One of the best times to build a deck is during the winter. There are many benefits to building a deck during the offseason. First of all, there is less demand for contractors during the winter months. As a result, you can get your deck built faster without waiting for openings. Furthermore, the damage to your landscape is reduced because the ground is frozen. The stable ground provides the best conditions for building a new deck!
By beating the spring and summer rush, you can save big in the decking offseason with Miles Bradley! We are a certified Trex Platinum Contractor, which means you'll be setting yourself up with a deck made out of the industry's leader in high-performance composite decking!
Add Additions to Your Deck
In addition to our expertise in building rectangle, multi-level or two-board-border decks we specialize in building:
3 Season Sunrooms
Gazebos
Pergolas
Trellises
Screen Enclosures
And more! Think about it! By waiting to decide whether you want a deck built in Michigan, your project can be put on a waiting list. Our decking professionals aren't as busy, you can have your deck built quicker than usual. You'll also save money doing it and can now take advantage of the great special we're running!
Get Your Deck from Miles Bradley
The best time to have a deck built is winter! That is why you should use the professional deck builders at Miles Bradley. You might not be in a summer state of mind right now. However, building a deck now can save you money! That way you can enjoy your deck as soon as the sun peeks out this spring; it's a win-win! So, get an estimate for your project today!