The recent Michigan snowfall has stirred up concerns for new deck owners on how to properly maintain their deck during the winter months. We often get questions about removing the snow on your deck in the winter. As your trusted deck building company, we are happy to address any concerns that you may have about maintaining your deck in the winter.
Should I remove the snow from my winter deck? 
You do not have to remove the snow from the deck. Also, we only recommend that you clear a path if the deck is connected to your house to avoid accidents.
Will my deck collapse if I don't remove the snow from it?
Your deck will not collapse from the added weight from the snow. Miles Bradley builds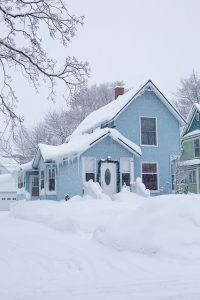 high-quality low maintenance decks that are built to withstand the Michigan winter. When you mix Trex decking with our great workmanship, you get a strong deck that can handle the weight of people, furniture, or snow.
Will I mess up the deck by shoveling it?
If you plan to shovel the snow off of your deck, we recommend that you use a rubber shovel. Metal shovels can possibly scratch up your deck. When shoveling, we also recommend that you use one big stroke and run the shovel down the length of the boards.
What products are recommended to remove snow and ice?
To remove snow and ice, we recommend that you use rock salt or calcium chloride.
Finally, thanks for being a valued customer of Miles Bradley. We look forward to another great year with you. If you are in need of deck repairs or a new deck this fall or winter call 248-478-8660. In addition, you can request a quote right now!
Pergolas and gazebos are becoming more popular additions to add value to your home. Have you recently had a pergola or gazebo added to your deck or yard in Michigan? If so, you may be wondering how you can decorate it for the winter. There are many creative decorating ideas for pergolas or creative decorating ideas for gazebos that will turn heads. Of course, without any work at all, the wood stain against Michigan's bright white snow is beautiful in itself, here are some simple additions that will truly make your pergola or gazebo stand out.
Gazebo Lighting
Adding simple holiday lighting to your pergola or gazebo will create a stunning ambiance that will illuminate your structure. Whether you select basic white lighting or another color, it will reflect beautifully off of accumulated snow. Because of the unique structure of your custom pergola or custom gazebo, your lighted snow-covered gazebo or pergola is sure to produce a great photo op!
Greenery
Whether you go with a faux garland or choose a real evergreen, you will create a stunning contrast to your pergola or gazebo finish. Garland can be wrapped around the posts of the bottom of your gazebo or pergola or draped from the roof. You may also choose to incorporate your lighting into your greenery by twisting it around as you would for holiday decorations. Some even add red bows in the center of draping or at the top of posts wrapped in garland to really add a holiday touch.
Whether or not you choose to decorate your gazebo or pergola is completely up to you. Check out some of the awesome winter decoration ideas for pergolas or winter decoration ideas for gazebos that we have found on Pinterest.
If you haven't contacted us to have a pergola or gazebo added to your home, it's not too late. In fact, this is the perfect time to schedule your pergola construction or gazebo construction in Michigan. With off-season building, you can save up to 20% on your project! Contact Miles Bradley today for more information.