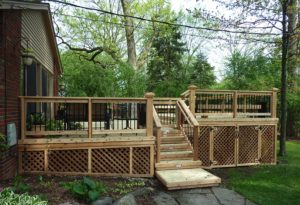 With winter on the horizon, many people will begin to put away their deck furniture if they haven't already. You may be wondering what you are going to do with it or where you are going to put all of your outdoor equipment. Many people are unaware that the under-deck area or dry space can actually be very useful if finished properly!
Under Deck Storage
Patios and decks add a lot of outdoor space, allowing you to expand your living space. However, people forget about the space underneath the deck. The under deck provides a great opportunity to add to your storage options. After all, hauling all your patio furniture and decorations to the garage is not ideal. It is a lot easier just to move these big items into a dry space under your deck.
However, you can put anything into this storage area. Need easier access to winter tools? Put your snowblower or shovel into the under-deck! If you have kids, you can keep your backyard clean and clear of toys by having them stored on the deck when you are done. Having additional storage space is always a bonus but some people are concerned what they store will be susceptible to water damage, bugs, or critters. That is why people need to hire professional construction companies like Miles Bradley!
Under Deck Construction
Miles Bradley Building and Remodeling will ensure your under-deck storage space has a proper seal, drainage system, and insulation leaving no room for damage to your stored items. However, if you don't want an under deck, why not add a dry space? If you don't need the additional storage, you can expand your living space even more with dry space underneath your deck.
During the Holiday season, Miles Bradley Building and Remodeling is offering specials to those who wish to get their decks built during the month of December.
Whether you are living in Detroit, Michigan, or Chicago, IL, Miles Bradley is here to make your deck or dry space beautiful!