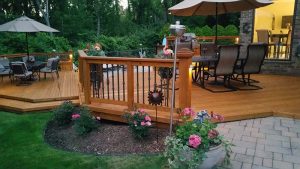 Are you thinking about decorating your deck, but aren't sure where to start? There are so many ideas to choose from, but which one is right? When it comes to transforming your deck into an outdoor living space, there is no right answer. Each deck has its own style and brings its own personality to the table. Below are a few ways to decorate your deck with the style just right for you.
Decorating your Deck
Add furniture: it's always nice to start off with a focal point and move from there. Placing your main piece of furniture in a focal area will make it stand out more. There are an endless amount of furniture items you could play around with to see which one works best for you. Also, when it comes to deciding what colors you want to use, your options are limitless.
Make it comfy: not only should your outdoor living space look comfortable, but it should feel comfortable as well. Adding a bunch of comfy pillows always seems to do the trick.
Create privacy: creating privacy is key, especially if your home is fairly close to your neighbors. Planting a row of evergreens or planter boxes with flowers forms a privacy wall for your deck. It also adds a pop of scenery to your backyard.
Lattice wall: putting up a wooden square lattice wall on one side of the deck is in right now. Planting certain plants such as climbing roses and clematis will eventually grow up the lattice and form a fragrant wall filled with blooms.
Add water: adding a water feature to your decks, such as a water garden or fountain, creates a smooth, tranquil environment. Nothing is better than coming home after a long day of work to a peaceful atmosphere right in your backyard. Adding water is a great addition when it comes to decorating your deck.
Deck Installation
As you can see, there are many options to choose from when it comes to decorating your deck. However, choose what will make you happy. If you are currently looking for a company to do your deck installation, please call Miles Bradley or feel free to fill out our quote form. We are a full-service custom decking firm that strives to see our customers satisfied.