Make Your Deck Look Amazing!
We've got some ideas from Pinterest, magazines, and even some clients we've had in the past to put together a list of cool ways you can spruce your deck up!
Accessorize!
Of course, the best way to get your deck to look and feel great is to add places to lounge and host guests on. Chairs, tables, patio furniture, a grill, and other places to hang out are key to enjoying your deck. Once you have these items in place, you can fully enjoy your deck and the summer weather. Make sure when purchasing outdoor furniture that you are getting items that can withstand the elements and are specifically made to be outdoors.
Plants do the trick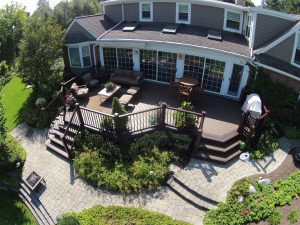 Adding potted plants to your deck will help create a real sense of awe. Plants will do well out on your outdoor space, and give your deck some of the life that it needs. You'd be surprised what a few potted plants and flowers can do for the feel of a space. Trust us you can't go wrong.
Fire Place, Fire Pit, or Chiminea
One of the things that no deck or outdoor space should be without is a place to have a fire. There isn't much more relaxing than enjoying company outside with a good fire going. Little fire pits or chimineas will help keep your fire contained and manageable. Always make sure to check local ordinances for fire burning policies or make sure to alert your local fire department any time you want to have a fire. Safety first!
Space for upgrades
When planning your deck, what is your ideal situation? We've had clients in the past who wanted to make sure they could add additional features to their deck in the future if need be. Hot tubs, pergolas, and gazebos could be in your future if you want it, so make sure you think in the long term when building your ideal deck. (If you need a hot tub or other waters add ons we recommend checking out Viscount pool and Spa)
Lighting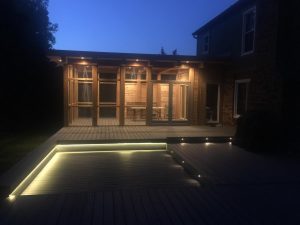 This one is great for when you want to extend your time out on your deck until late hours of the night. Don't leave your guests sitting in the dark, especially if you have a multi-level deck or stairs. Adding some lighting will not only help set the mood but also give added safety features that you'll need to enjoy your deck into the evening
If you've always wanted a deck, or your current deck needs an upgrade, we can help! We know how to create a custom unique outdoor space that you've always wanted. We'll even sweeten the deal! We are currently running a special on deck lighting for your new deck. We install a new deck, and you get a free set of six rail lights that include a photo/cell timer.
So why wait! Summer is almost here and you should be enjoying it! Click here for a  free quote on your next deck project from Miles Bradley!