Are you looking to add features to your deck? Whether you are looking to spruce up your old deck or add to your new one, there are many features that can make your outdoor space shine. At Miles Bradley, we have many deck accessories that can only improve your deck. However, what are the best features to add to your outdoor living area?
Deck Lighting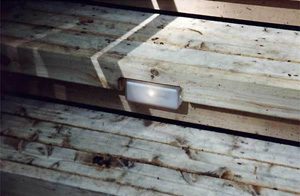 Deck lighting should always be the first feature to add to your deck. First of all, lighting adds some extra safety for your household and guests during the night. However, it can also add a special touch to your backyard. Depending on the lighting to install, you can set the ambiance of your deck at night. You can even add special bulbs to change the color of the light that is emitted. There is a variety of lights that you can add to your deck including:
Railing Lights 
Step Lights
Ceiling Lights
Screened Enclosures
When winter hits, many people have to forgo hanging out on their decks. After all, there is a limit to what you can do when your outdoor space is covered in snow. However, if you own a screened enclosure, you don't have to wait! Adding one of these enclosures allows you to expand your living area with a deck space shielded from the elements. You can drink hot chocolate inside your screened enclosure without feeling the bitter cold of winter. You can also take advantage of this space during the summer, protecting yourself from the shade. Miles Bradley specializes in constructing three and four-season enclosures.
Gazebos
Without a doubt, gazebos are always a charming addition to any outdoor area. In addition to adding another structure to provide shelter from sunlight, it is a natural place for people to interact in. You could have a small gathering under the shade or have a romantic moment with someone special. Our company builds custom decks with gazebo additions. Gazebos can be built with screen and storm windows, adding an extra layer of protection. These structures add value to your yard, so they are always a feature you should consider.
Under Deck and Dry Space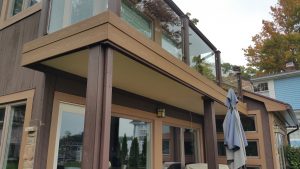 One of the disadvantages of certain decks is the lack of storage space. The majority of the time, people have to buy additional furnishing to help with storage problems or relegate items to the garage or basement. However, investing in your under deck or a dry space is a perfect solution! Walk-out basements provide the perfect opportunity to transform your under-deck area. Your under-deck can be a natural gathering place for outdoor activities. Adding some proper lighting and other items can make your under-deck a welcome addition to your outdoor space.
However, you can easily repurpose this space for dry storage. For those with a walk-out basement, adding a dry space can be the perfect solution to any storage problems. This additional storage can be the perfect place to relocate your outdoor furniture for the winter months. Furthermore, it can free up storage in other areas in your garage by placing your yard gear under your deck.
Other Deck Additions
There are plenty of additions that you can use to enhance your outdoor space, including:
Privacy Walls
Pergolas
Trellises
Columns
However, finding a company that you can trust is a different story. After all, you want professionals handling your deck. Fortunately, Miles Bradley is capable of building all of these structures. Since 1991, our company has been trusted to construct custom-built decks and other structures throughout Michigan and Illinois. With our experts, your yard will be in capable hands. Talk to one of our staff members today to see about adding features to your deck.
Schedule your Spring or Summer deck installation now! Groundhogs day and came and went, and the prediction was bleak. Even though Punxsutawney Phil, the famous groundhog, saw his shadow we won't let that get us down. Being outside in the cool spring air or the summer sun on a new deck is the only way to enjoy your home. Winter may be in full swing for another 6 weeks but you should start planning for Summer. If you envision BBQs and family time out on a new deck, three seasons room, or pergola, now is the time to book your install date. You won't have to wish for a beautiful deck for your Summer party because you can have it ready before the hottest season starts! Hire Miles Bradley now to ensure your summer dreams of a new deck come true!
The great outdoors can be that much better with an outdoor patio, three-season room, or pergola addition! Being able to be outside while still being at your home is a luxury and increases your home's resale value. When you add a deck to your home, you're not only increasing the space that you can use in your home, but you're also investing in your home. Miles Bradley has the ability to your deck in time and within your budget! Large deck? Small Deck? Single or multi-level? No problem! The deck of your dreams is one call away.
Why Should I Schedule My Spring Or Summer Deck Installation Now?
The best time to book your deck installation is during the slow periods for deck installers. Since installing decks is seasonal, now is the best time while the ground is frozen. As they say "The early bird gets the worm" and the same is true with scheduling your patio, three seasons room, or pergola installation. If you want the best installation times, you should be booking your appointment now!
During the winter months, our schedules are wide open and ready for your spring deck installation. Since we book up quickly closer to the spring, now is the best time to get your ideal installation date. In some cases, people who wait too long to schedule their deck install have to wait and miss out on summertime spent outdoors.
So don't wait for Spring before you book your installation. Call or contact us today and get your date locked in! Don't say we didn't warn you.