So, you've just bought a new home in Farmington Hills and everything about it is beautiful. It has everything you've ever wanted in a home. A huge cherry blossom tree in your front yard, the trim around your windows, the white brick fireplace, the finished basement, the masonry chimney, the fluorescent lighting around your deck. Everything that makes your dream home perfect is displayed right before your very own eyes. But, something is missing–and you know it. What could it be?
Adding a trellis, pergola, or columns would make a great addition to your backyard. Not only are they versatile, but they add a certain elegance to your yard and home. They provide shade, privacy, and add to the value of your home. We give out custom quotes to many homeowners in places like Novi, Brighton, and Farmington Hills!
If you need a few more reasons why a trellis and/or pergola would be an excellent addition to your home, we can think of a few!
Trellis
Trellis fences are very popular features in many gardens. The fence is actually made up of a lattice architectural framework that consists of either wood, metal, or vinyl. Trellis can be installed independently, with help of cement, or attached to something already in place. This type of fence provides a simple, yet chic look to your garden and yard. Some advantages of having a trellis are:
It's affordable
It's super easy to install
It provides a strong support system to your garden
It can be used for many exterior projects
It can be used to divide your garden into sections, thus creating diversity
It creates an aesthetic appeal to your garden
It can be used to hide the imperfections of your garden
It can be used as a privacy screen/wall
It allows some shade to your plants and flowers
Pergolas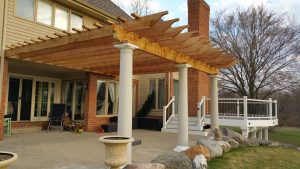 Pergolas are crafted with beams and support posts to help break up the sunlight of spring or summer. With its airy feel, they provide an inviting space that allows for people to relax, dine or admire the view. Pergolas can also be decorated with fabric or hanging planters to give it a "pop". A few advantages of pergolas are:
It is good for creating shade
It gives off an aesthetic appeal
It helps create a visual interest in a minimalistic backyard
It is inexpensive
It can be used as a DIY project
It lends support to and is perfect for climbing roses and growing vines
It defines spaces
It is much larger than arbors
It is generally freestanding but can be attached to another building
Get Your Trellis or Pergola Installed Today!
If you are currently looking for a company to install your trellis or pergola in the Brighton, Novi, or Farmington Hills area, please do not hesitate to contact Miles Bradley. We would be honored to help make your dream home that much more elegant. We'll even give you a free quote so you can plan!