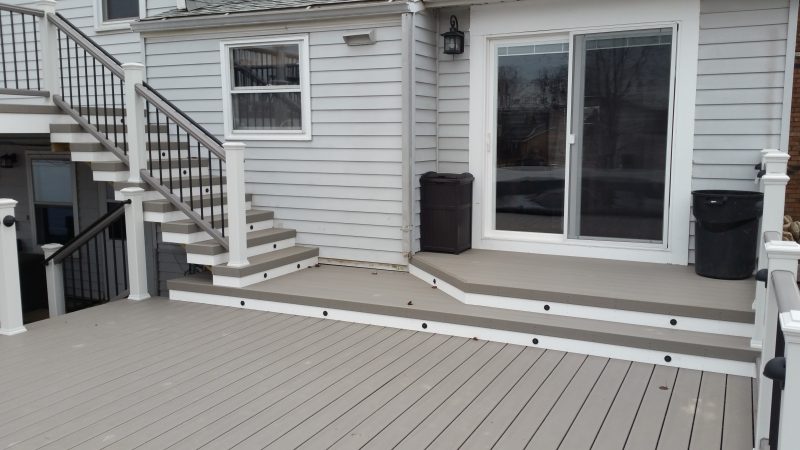 As spring's arrival gets closer and closer (no really, it's coming), the window for you to save big by having a deck built this winter at Miles Bradley is coming closer and closer to slamming shut. If you're someone who would love nothing more than to have a high-quality low maintenance composite deck or cedar deck built in Detroit Michigan or Chicago, IL, but can't quite afford it, then we have some great news for you: Financing is now available at Miles Bradley Building and Remodeling Inc!
Get Your Deck Built Now!
Being that it's tax season, now is an even better time than earlier this winter to have a deck added to your property. Because you can now take advantage of new financing plans. Furthermore, we are offering a six-month, as well as a 12-month plan. That is if you'd like to stretch the payments out a bit. When it comes to Trex decking, the right choice is Miles Bradley.  Also, we have certified Trex deck installers. In addition, we can help you decide the color and look of your new Trex deck.
When you can couple the opportunity to save big during the decking offseason. Also, you can make quick and easy monthly payments to do it. Instead, of putting one big dent in your savings account, it equals a big win for you, the customer. To learn the specifics about our new financing plans, contact Miles Bradley at either our Chicago office or Detroit office, today. Finally, you can call 248-478-8660 for Detroit or 847-920-7601 in Chicago. You can also request a quote today.
Have you ever wanted to transform your basement into an area to entertain guests or spend time with the family? A finished basement can add value to your home as well as offer a great space for you and your family.
Transform that dark and dank basement into somewhere you enjoy hanging out. You can turn your basement into a family room, home office, game room, man cave, or guest room. A finished basement offers the most value per square foot compared to any other space-increasing projects.
If you are looking for a great space to have the guys over to watch the big game, a finished basement can really benefit you. There are tons of options for your basement, why not make it the room you always wanted? Do you find yourself waiting to use the bathroom in your house?
With a finished basement, you can choose to add an additional bathroom. Having that extra bathroom can really help with a large family. Or in some cases, it turns into his and her bathroom. As you can see there are a lot of options for a finished basement, so you should next ask who can do it for you?
Miles Bradley Finished Basement
Not only is Miles Bradley the leading deck builder in the Midwest, but they can also provide services to finish your basement. We can give your basement a professional look. At Miles Bradley, we can offer financing to help pay for your new basement.  Contact us today and one of our skilled professionals can discuss your options for your basement.
Our skilled, experienced, professional installers can help you get the basement you always wanted. Give us a call in Michigan at 248-478-8660 or in the Chicago area at 847-920-7601. Miles Bradley can turn your boring basement, into a great area you will really appreciate!