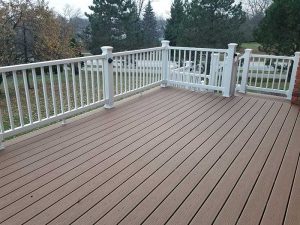 It's that time of year again where the weather is getting colder and we have to start thinking about winterizing our composite or wood decks. Especially in the harsh Michigan Winters, deck owners have to make sure to take all the necessary precautions to ensure the longest life for composite and wood decking. But what is the best way to winterize your deck?
How To Winterize Your Deck
Clean your deck before Winter arrives.
By cleaning your deck before the snow starts accumulating, you can avoid the hassle of removing long-standing dirt and grime from your deck when the snow melts in the Spring. If you leave dirt on your deck, especially wood, for long periods of time then you risk discoloration and stains on the decking.
Inspect your deck for any weaknesses.
Make sure that you check your deck for any weaknesses before the first snowfall. If you have loose screws, lifting boards, or any cracks, heavy snows and extra pressure could make the problem much worse. Call Miles Bradley to get a free estimate before the deck sustains real damage.
Trim tree branches that hang over your deck. 
It's always better to be safe than sorry. If you trim your overhanging tree branches before a bad storm hits, you have no chance of sustaining damage to your deck from a heavy branch cracking and falling on it. This is a simple precaution that could save you lots of money.
Consider removing furniture from the deck.
You may want to relocate your furniture to the attic or a shed during the Winter. This will protect the furniture's quality and keep it in its best condition for the Spring. Also, it will prevent rust spots and mildew from forming on the decking surrounding the furniture.
For any questions or concerns, please feel free to contact us! As your trusted local deck builder, we are happy to address any concerns that you may have about winterizing your composite or wood deck.