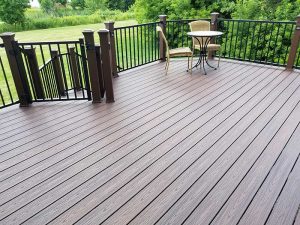 As the weather gets colder, you may be looking to make some home improvements around the house. Thankfully, we do fall and winter deck installations! The fall and winter seasons are a great time to get a new wooden or composite deck built! Not only can you miss the spring and summer rush but you will get more time to enjoy the deck once the warm weather comes around!
Deck Inspections in Southeast Michigan
For people that already have decks, we offer deck inspections! Whether you have a wooden or low-maintenance composite deck, we can tell you exactly what you need to make your deck its best. Also, there are several benefits that come from a deck inspection. 
Damage- Our expert contractors can tell you if there are signs of damage or rotting materials that need to be replaced. Catching these issues soon can prevent further damage and can save you money in the long run.
Stability- As decks get older, the framework and materials get weaker. With a deck inspection, we can tell you what needs to be fixed or reinforced. This will keep your deck strong and secure!
Safety- Weak railings, missing screws or bolts, and wood damage have the potential to cause injury to you and your family. We look for these signs during a deck inspection and alert you to them being there.
Winter Deck Installations
Here at Miles Bradley, we have decades of experience building and maintaining decks in West Bloomfield, Farmington Hills, Northville, and other cities around Southeast Michigan. If you want your deck built in the colder seasons, get a quote on our fall and winter deck installations! We also offer fall and winter deck inspections! For a free quote on deck inspections, contact us today. We will make sure your deck is safe and up to code!