As spring soon transitions to summer, bugs including mosquito's are beginning to come out more than ever. Now is the perfect time to enhance your deck by adding a screened enclosure! This is the season where everyone is outside either barbecuing, swimming, or spending time with their family and friends. Having a screened enclosure, adds a bit of uniqueness to your beautiful backyard in the daytime and at night.
Enclosures That Keep Mosquitoes Out
Owning a screened enclosure gives your home a new look altogether. It ensures the safety of your children and pets, allows you to change an area into a relaxation, party, or playroom, and adds a lot of usable space to your backyard.  Because screened enclosures act as a barrier, it also protects you and your loved ones from mosquitoes and other insects that seem to become a hassle when the weather warms up.
Screened enclosures provide you and your family a great way to enjoy the outdoors without the bugs. Also, it can provide shade and a great area to eat while enjoying the weather. At Miles Bradley, we specialize in decks and screened enclosures. Furthermore, we can build an outdoor area you have always wanted quickly and affordable. Rest assured we build all year long. So if you cannot have your addition built in the summer, we can do it in the fall and winter as well.
If you're interested in having a screened enclosure built right outside of your home, Miles Bradley is more than happy to be an aid for you. Finally, we specialize in building screened enclosures. So don't wait any longer; now is the time to have it installed. Let us help you keep mosquitoes out with a screened enclosure or composite deck, so you can enjoy the beauty of nature.
Have you recently attended a BBQ, graduation party, or get-together that on your way home had you telling yourself; "I wish I had my own beautiful deck."? Well, it's not too late to have your deck built this summer and then start planning a summer party of your own!
Great Are For A Summer Party
With top-of-the-line decking materials, accessories, and service, Miles Bradley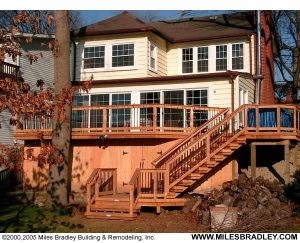 will work with you to have the deck of your dreams built before summer is over. Whether you are looking to have a second-story balcony built, or a beautiful deck off the back of your home, Miles Bradley has the resources to build your deck in time and within your budget. Small deck? Large deck? Single or multilevel deck? whether you live in Michigan or in Chicagoland it will be No Problem! The deck you have always wanted is a phone call away.
At Miles Bradley, we can build you a wood deck from cedar or we recommend a composite deck. Composite decks will require way less maintenance than a wood deck. In addition, composite decks built with Trex decking will maintain their beauty for years to come. Of course, we also can build a screen enclosure, gazebos, and many more outdoor options.
Are you tired of wet kids running through the house after swimming? Have them dry off on a new deck. With plenty of areas to relax the dry off while enjoying fun times on the deck.
Looking to expand your storage in the backyard? Visit our friends at Lakeside Cabins. Lakeside Cabins has great sheds to choose from.
Having all the extra outdoor room is ideal for any summer party! Act now, Miles Bradley is offering a free set of six rail lights with a photo/cell timer when you have your new deck built. This is a deal you won't want to miss! Finally, contact Miles Bradley today to find out how soon you can be enjoying the sun on your new deck!