Do you have a composite deck but don't know how to properly take care of it? Because composite decks are made from wood byproducts (i.e. wood chips, sawdust) and plastics, they require less maintenance work than other wood decks. These types of decks come in a variety of styles, colors, and grains to choose from.
Taking care of your deck isn't a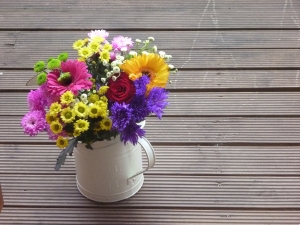 hard process at all. The first thing you should do is to grab a broom and dustpan and begin sweeping your deck. Sweeping frequently will help keep your deck clean. As you're sweeping, make sure to sweep all of the debris off of your low-maintenance deck. Pick up any leaves or sticks that might be stuck within the cracks of your deck board. Composite decking material cannot be sanded nor refinished so if you see any stains on the deck, be sure to address them quickly so that they can be removed.
Composite Deck Cleaning
Next, scrub your deck with soap and hot water or composite deck cleaner. Use a deck brush while scrubbing the surface of your composite deck. The deck brush that you use should have soft bristles to make your deck even smoother.
Finally, rinse off your low-maintenance deck using the water hose. Make sure all of the soap's residue is removed. If your composite deck has any marks on it, use nail polish remover, rubbing it in a circular motion, on a wet cotton ball to get it off. Once finished, allow your deck to dry.
Miles Bradley Building and Remodeling, INC specializes in building composite decks. If you're interested or have any questions, contact us at any one of our locations.
Do you have a big backyard with a little too much open space in it? Maybe you want a place near your garden to sit and admire it from up close, or somewhere outdoors to host summer dinner parties or family get-togethers in, especially if you have people flowing out of your house during reunions already. If this is your line of thinking then a gazebo might be right up your alley!
Totally customizable, the deck building professionals at Miles Bradley can build your gazebo with or without a copula and top it off with whatever style of roof you prefer, including but not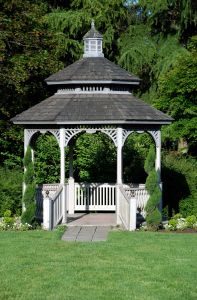 limited to:
Bell Shape
Double Stacked
Slotted
Square
Gazebo Built From Miles Bradley
As always, you can choose whatever type of wood you want your gazebo to be built out of. We can also add screen or storm windows if you'd prefer. So you have a place to hide if you get stuck outside during a storm! And, did you know that high-quality wood or composite gazebos from Miles Bradley can add value to your Michigan property? A gazebo equipped with lighting, seating, or other accessories is almost like another room in your house!
From a place to shelter your hot tub to somewhere to relax with family and friends and enjoy nature, there are endless ways to enjoy a gazebo in Michigan! Being that springtime is still a few months away, you still have time to save cash by having your gazebo built during the off-season. Don't wait until spring or summer when our deck-building professionals have a job after job lined up. Contact us to get your gazebo built now, for less money and in less time!