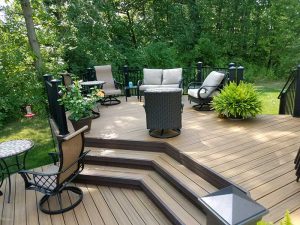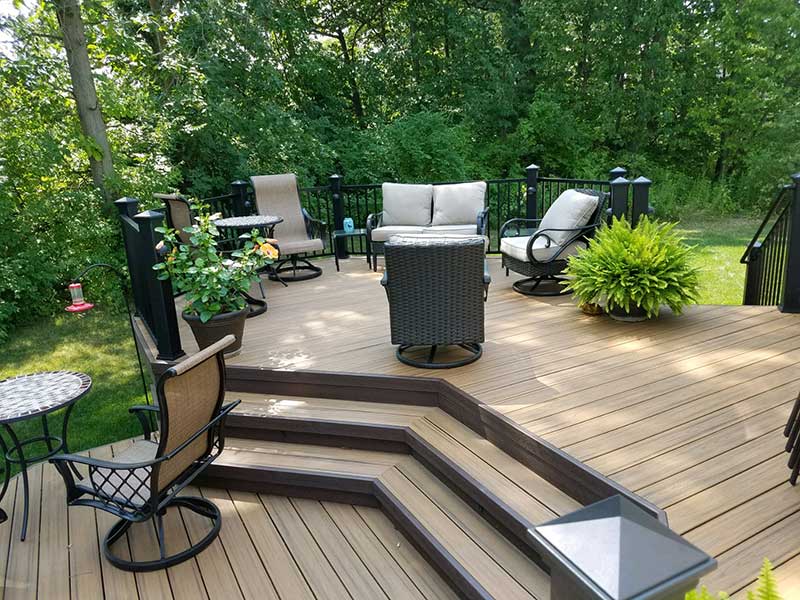 Farmington Hills is a beautiful and lavish Michigan city with a general population of 80,971. It is also a very family-oriented city. In addition, the schools are top-of-the-line and the area is shrouded in wealth. Also, the average home value is $207,200. The houses are big and beautiful and should be accompanied by gorgeous decks! A nice deck can make or break your home, so why not aim for the best?
Here at Miles Bradley, we build custom composite decks in Farmington Hills. We use Timbertech and Trex composite decking materials for the best quality decks. While our decks are of the highest quality, they are also beautiful. 
Timbertech vs Trex
Both Timbertech and Trex are popular composite decking companies. This means that both companies have similar advantages. Unlike wood, composite decks have desirable factors of durability, longevity, and maintainability. But there are some differences between Timbertech and Trex as well. 
Timbertech
Timbertech decks are generally more expensive than Trex decks. This is because of the slight difference in the board design. Although Timbertech boards are also made of recycled material, they contain a protective polymer shell that protects all four sides of the board. Because of this extra coverage, Timbertech materials are more resistant to harsh weather, an important quality to have in Michigan.
Trex
All of the Trex decking materials are made up of a protective shell and a composite score. The protective shell provides coverage to three sides of the board; the top and both sides. The bottom of the board is left unsealed, allowing the material to respire while also being protected. Furthermore, Trex decking materials tend to have more scratch resistance than Timbertech.
Composite Deck Building In Farmington Hills
Here at Miles Bradley, we construct Timbertech and Trex low-maintenance composite decks. We have served the people in Farmington Hills for over 25 years. With decades of experience and customer satisfaction, we are there to help you make the custom deck of your dreams. For more information, request a free quote! Finally, contact us today to make your deck-building appointment.