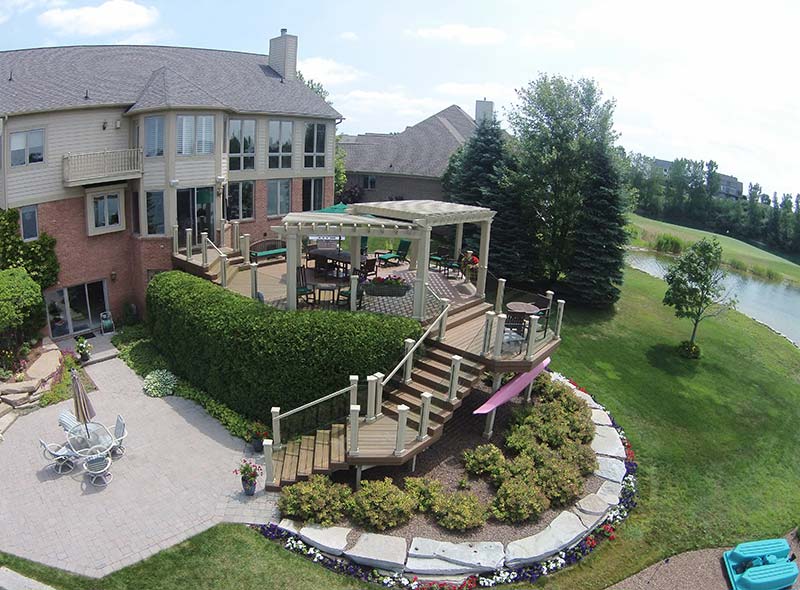 Are you looking for a deck builder near you in Farmington Hills? Here at Miles Bradley, we build composite decks in Farmington Hills. While they are stable and dependable, they are also unmatched in beauty. With decades of experience and customer satisfaction, we are there to help you make the custom deck of your dreams.
Farmington Hills is a beautiful and prosperous Michigan city. The schools are top-of-the-line and the area is shrouded in wealth. The beautiful houses should be accompanied by beautiful custom decks! A nice deck can make or break your home, so why not aim for the best?
Why a Composite Deck?
Unlike a wood deck which shows its age over the years, low-maintenance composite decks are built to last. Composite decks are made from Trex materials that can withstand harsh Michigan weather patterns. That is why more and more homeowners are seeing the benefits of low-maintenance composite decks. They maintain their beauty for a longer amount of time and by requiring little-to-no maintenance, they are practical for anyone. Furthermore, there are several advantages to having a composite deck.
The deck boards are made from recycled materials so you will not have to worry about killing trees in order to get new wood.
Composite decking is designed to resist scratching, fading, staining, and mold. Also, unlike wood, composite decks are insect-proof so you have no threat of infestation or material damage.
At first, a composite deck will be higher a cost but in the long run with way less maintenance and longer durability, you will save money.
Contact
If you are interested in building a new composite deck, contact Miles Bradley right away! We treat your home like it is our own, the care only expected of family. The best place to go for a new deck is here with our decades of experience and customer satisfaction. Finally, request a quote from us today!