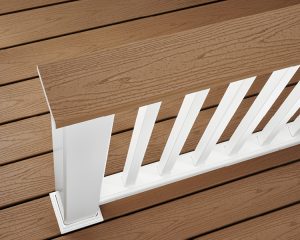 Are you looking for a brand-new composite deck for your dream backyard? You have a few choices on what to make your deck out of. Trex, the world's number one decking brand, TimberTech, America's number one in premium decking, or original wood, an easy material to use that is the go-to for many people.
Each material has its own advantages and disadvantages, so we cover the great Trex vs Timbertech debate.
Benefits of a Trex deck
Trex is an eco-friendly decking material. Unlike wood, Trex decks come will not rot, split, swell, or crack from insect infestation. And because the color is ingrained within the material, Trex does not require repainting, annual staining, or sealing.
Benefits of a TimberTech deck
TimberTech is number one in premium decking. These decks are durable enough to withstand almost anything your family, friends, and the elements throw at them. They do not require any staining or sealing in their long-lasting life in your backyard.
Wood decks are the original design that many flocks to in the spring and summer months. Even though wood is in need of replacement every couple of years, wooden decks are easy to construct at a reasonably affordable price. Unfortunately, this resource is scarce and can lead to deforestation. It also splits and splinters with age. So, perhaps wood is not the best option for today's standards.
Why Choose Trex vs Timbertech
Trex is by far the best and most reliable brand to use when constructing a deck. Your deck will last for years to come with Trex as its construction base. You can make the deck of your dreams in the color of your choice. So why wait?
Contact Miles Bradley Decks today to get a free quote! We can make your deck in any color you choose. Our main seller is Trex but we can do whatever you'd like most on your favorite deck. So, let's make your dreams a reality, call us today or contact us through our form!