We are proud to offer such a great product from the largest manufacturer of composite decking (wood-alternative). Today Trex was awarded the 2013 Green Award from Washingtonian Magazine. This award recognizes people, companies and organizations in the DC area that work to improve the environment and encourage eco-friendly living.
Trex was awarded this because of their efforts in salvaging more than 400 million pounds of plastic and wood scrap out of landfills each year. They kept more than 2.5 billion pounds total from 2007 through 2012 alone. Their Trex decking products are manufactured from more than 95 percent of recycled content including; wood and sawdust, along with plastic and newspapers from household items.
Their green efforts do not stop there, Trex manufacturing final process is also green with a proprietary method that recycles factory refuse back onto the manufacturing line. By  continuously improving their process with green methods, Trex supports their community through recycling and education.
We are delighted to see Trex earn this award and are proud to support this company by  using these great products in our customers decks. Contact us today to see how we can build your deck with Trex composite decking material.
Have you been searching for ideas on sprucing up your plain deck or landscape? There are so many great ideas for whatever style you are going for! Whether you are looking to add lighting to your stairway, structure to your landscape, or flower boxes to your deck, Miles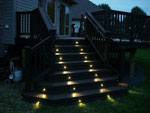 Bradley can help you with all of the decking accessories you may need.
Trellis' or Pergolas are great ideas for adding structure to you space or deck while also serving as a home to your flowers or vines. There are many different pergola or trellis styles that will enhance your deck space.
Another great deck accessory that will enhance your deck space is lighting. Miles Bradley can create custom lighting that will suit your deck perfectly. Whether you would like your entire deck lit up or just your deck's staircase, Miles Bradley can create lighting that will bring out your deck structure and landscaping.
Having  deck built and adding enhancing deck accessories can help to improve your Michigan or Chicago, IL home value. There are many options when it comes to having accessories added to your deck space. Visit Miles Bradley's accessory portfolio for more ideas and photos.
To schedule your deck build, or add deck accessories to your current deck contact and schedule your project with Miles Bradley Building and Remodeling, Inc.  professional deck builders today.