During the Spring and Summer months we all like to sit on our decks and enjoy the beautiful weather. But, when the sun is at its prime it can get uncomfortable and complete shade can make you chilly. The perfect solution is a pergola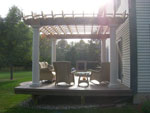 .
With  pergolas, you can enjoy the perfect combination of shade and sun allowing you to be comfortable all day long. But that is not all a pergola can be used for. They are a great option for enhancing your garden space, creating privacy, and believe it or not, increasing home value.
Pergolas are completely customizable. You can choose the type of wood used, whether you want a curved or flat roof, or the size of the wood used. Keep in mid the larger planks you use the more shade you will create for yourself.
If you are interested in increasing your home value with the creation of a pergola, Miles Bradley wants to help you! They have just extended their holiday coupon until February 1st. So, call today and schedule your building date!