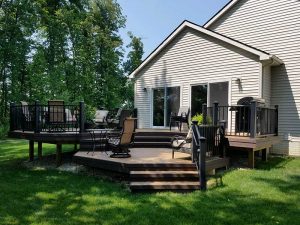 While it has been a city in Livingston County since 1928, Brighton has recently regained popularity. With a population of roughly 7,657 people and counting, the housing market is booming. Houses in Brighton are much less expensive than those in Wayne and Oakland County which makes the city of Brighton very attractive for families and first home buyers alike. 
The median home value in Brighton is $207,146. You can easily add value to your home by adding a new Cedarwood or Trex composite deck. Decks add character and depth to any home and make them more desirable when trying to sell. 
Composite Deckers in Livingston County
Are you a resident in Livingston County looking to have a wooden or composite deck built? Here at Miles Bradley, we have been building decks for decades in Howell, Hamburg, Hartland, Pinckney, and Brighton. We are well-known throughout Livingston County for our long-lasting low-maintenance composite decks. 
Our Trex composite decks are made of a hassle-free and eco-friendly composite decking material. Also, the three-layer shell protection of the planks lengthens the lifetime of the structure. Furthermore, our composite decks are custom and come in a variety of colors. The planks themselves have color ingrained within them allowing the color to last for many years in the color of your choice without the need to stain or repaint them.
Why choose Miles Bradley?
Here at Miles Bradley, we construct custom wooden and low-maintenance composite decks at reasonable prices. We have over 25 years of building experience in Livingston County. With decades of experience and customer satisfaction, we are there to help you make the custom wooden or Trex composite deck of your dreams. Receive a free quote today to get your deck building process started and contact us to make a deck-building appointment. We look forward to hearing from you!