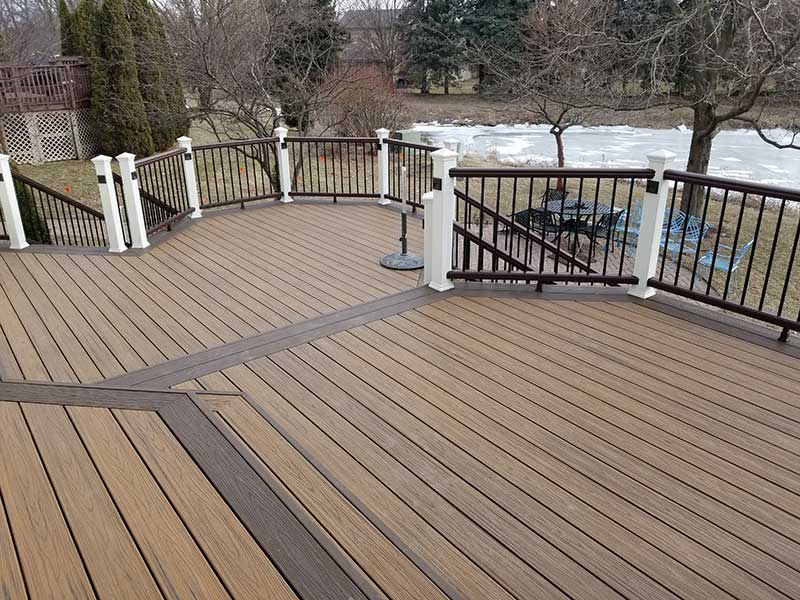 You want the best composite deck materials used during your Macomb deck project. Regardless if you are ripping out or installing a new deck, the deck materials you are using are important. If you are looking for a low-maintenance composite deck, you need materials guaranteed to last. So, what type of qualities should your composite deck materials have? Furthermore, what type of composite deck materials are there?
Qualities of Composite Deck Materials
When you think of deck materials, most people think about wood. After all, wood has been the standard material for centuries. While decks get a natural look and feel, wood suffers from various problems over time. Staining, infestations, mold growth, and other issues make wood decks less than ideal. In recent years, people have begun using PVC decking. Unlike wood, PVC decking is 100% plastic. As a result, this type of material avoids the downfalls of wood and reduces maintenance requirements. However, PCV decking takes away the natural feel that organic-based material has.
Composite decking is the best of wood and PVC. While composite material is synthetic, it is combined with wood pulp. This combination allows for composite decking to feel as natural as wood. In addition, it shares many qualities with PVC decking such as:
Cost-effective
Low-maintenance
Durable
Moisture-resistant
Insect-resistant
Scratch-resistant
However, composite decking has more advantages. As stated above, composite decking has a more authentic look because it has wood pulp. Furthermore, it is more slip-resistant and less prone to warping than plastic decking. As a result, homeowners that want easy maintenance and an authentic appeal gravitate towards composite deck materials.
Types of Composite Decking
Choosing your composite decking is essential. While composite material has the same composition, there are different types to choose from. Trex and Timbertech both manufacture composite deck material that gives deck owners the wood look they want, yet easy maintenance and longevity. These two brands provide high-quality materials and have a similar collection to each other. To be honest, you cannot go wrong with either brand. Trex and Timbertech are both made for a low-maintenance decking experience. Fortunately, both of these brands are the default for Miles Bradley, the best professional decking company in Michigan!
Composite Deck Installation with Miles Bradley
For over 25 years, Miles Bradley has been providing both quality materials and exceptional workmanship for our deck services. You can expect our company to use the best composite deck materials for your project. Miles Bradley uses both Trez and Timbertech composite decking, guaranteeing your deck will exceed other decking company standards. You can even add a firepit to your composite deck! Our company builds decks all year long in the Detroit and Chicago areas! Miles Bradley offers a variety of services. In addition to composite deck installations, Miles Bradley does traditional wooden decks, screened enclosures, gazebos, and other outdoor structures! Ready to expand your outdoor space? Contact Miles Bradley today or submit a quote! Also, check out our specials!
---
Catch up on helpful tips and news by going to our blog!