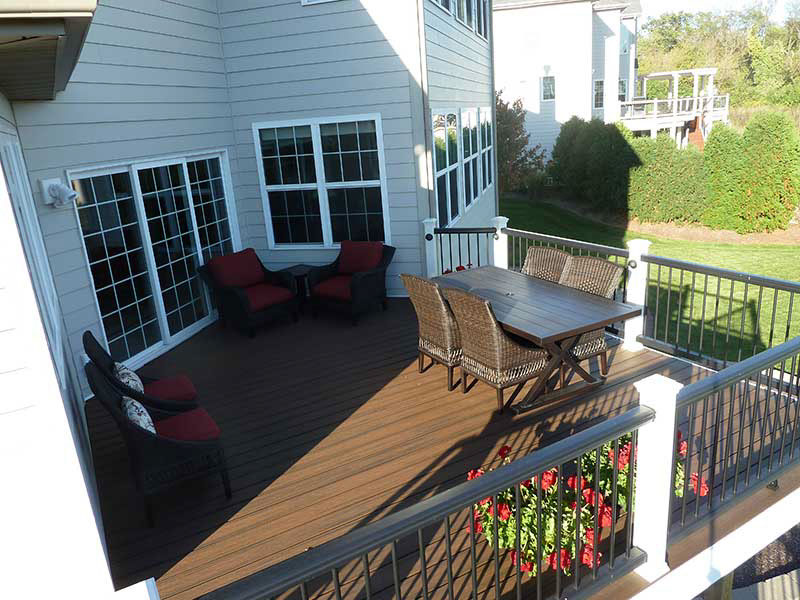 Looking for the best deck builders in Oakland County? Oakland County has a variety of cities, townships, and villages within its territory. It is the second-most populous county in Michigan.
For most people, a deck can be nice. However, some counties are not ideal to have a deck based on a variety of factors. Yet, there many reasons to build your own deck in Oakland. So, let's discuss why you should get a deck and how Miles Bradley can help you!
Owning a Deck in Oakland County
Oakland County has always been a popular spot. Founded in 1819, Oakland Country transformed from rural agricultural land to becoming the 4th wealthiest county in the 1950s. It once was a place where rich Detroiters would go stay at their summer homes. Although it has dropped in the ranking for the wealthiest county, Oakland now has a large and diverse population. However, this is not a history lesson. You want to know why you should get a deck in Oakland. First of all, the county has 387 lakes. If you are fortunate to have a view of the lake, a deck is a great way to enjoy it. Having a deck would allow you to enjoy the beauty of the lakefront. In addition, you will have the advantage to go out on your deck during the winter to view a snow lake scene.
It also offers a great place to relax during the summer. According to Time and Date, the average summer temperatures range between 70-83 degrees. These temperatures were recorded between May and September, meaning it is the perfect weather to relax. A deck allows you to relax outside without requiring you to go in the grass. Furthermore, a deck can be great for group gatherings by allowing for more space. These are just a few reasons why you show own a deck. There are many others like giving you a dedicated relaxation space and adding functionality. Furthermore, decks are inexpensive compared to other additions you could add to your house.  With so many benefits, anyone who can get a deck should get a deck. However, who should you hire to construct your new addition? That's easy, hire the experts at Miles Bradley.
Hire Miles Bradley
Miles Bradley is a certified Trex Platinum Contractor that is known nationwide expert in low maintenance decking and building products. Our team is full of professional and licensed contractors.  We offer full-service design and building custom decks in all of Michigan and Illinois. Our builders will work one-on-one with the homeowner to help them create the deck they desire. However, Miles Bradley does more than custom decks. Our company has a variety of other services available. These include deck lighting/accessories, deck railings/privacy walls, deck steps, enclosures/gazebos, pergola, and under deck space. Miles Bradley has satisfied many customers with high-quality services. In addition, we also do deck inspection. So, don't hire just an contractor. Hire the professionals at Miles Bradley. Contact us today or click the button below for a quote.
---
Miles Bradley offers specials!