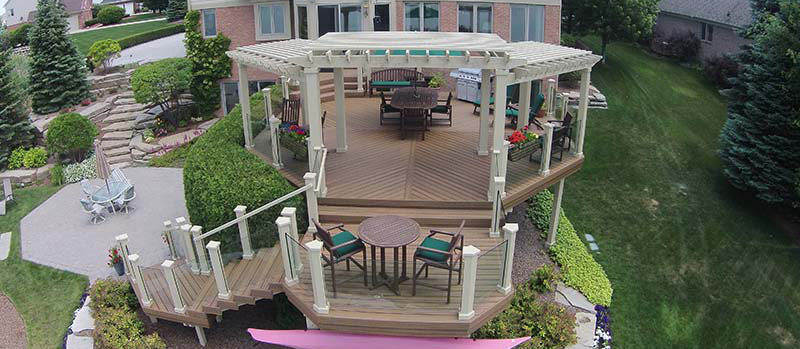 Summer is winding down, and fall is right around the corner. With fall fast approaching, the weather is becoming a little cooler and actually even more enjoyable to be outside. In addition to cooler weather, football and apple orchards are added to the agenda. There is no better way to enjoy your backyard this fall than a composite deck from Miles Bradley. Why choose a composite deck this fall? There are many reasons and we will tell you why.
Easy Maintenance For Your Composite Deck This Fall
Why choose a composite deck over a wood deck? When it comes to a low maintenance composite deck made from Trex decking, you are getting easy to maintain deck year after year.  In addition, a traditional wood deck, while looks beautiful,  has a higher level of maintenance year to year than a composite deck.  Also, each year with a wood deck you will need to paint and possibly sand. A composite deck maintains its great look year after year.
Composite Decking Advantage
At Miles Bradley Building and Remodeling Inc. we have been building custom composite decks for over 20 years. Furthermore, we can build the deck you have always dreamed of with the options you will enjoy. There are a variety of color options and designs you can choose from your deck. From lighting to beautiful handrails and seating for outdoor entertaining.  By requesting a quote now you can schedule your deck build this fall and beat the spring and summer rush.
In addition to decks, really enhance your yard with a trellis or a pergola.  A trellis or pergola can really give your yard a distinct and beautiful look while providing shade. Have a hot tub? We can custom build an enclosure to give you maximum privacy while enjoying your hot tub.  If you are in the Detroit area call us today at 248-478-8660 or if in the Chicago area call 847-920-7601!