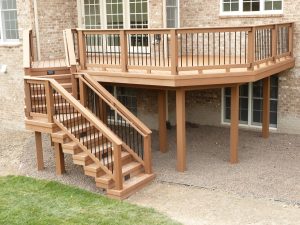 Modern solid composite decking cuts, nails, screws and installs similar to regular wood decking. Composite deck materials offer the fine looks of natural wood. Most composite deck materials even offer wood grain to enhance its appearance.
Composite deck materials are building materials manufactured using a mixture of plastic and wood fiber.  Composite decking  materials are very popular because they require less maintenance than wood and often use recycled materials.
We offer many different brands of composite deck materials that allows for a full line of colors and different grain patterns. As a certified Trex Platinum Contractor, Miles Bradley Building promises to provide both quality materials and exceptional workmanship from our highly experienced master carpenters.
Posted In: Deck Materials, Decks
Tags: composite, deck materials, decks