Have you recently attended a BBQ, graduation party, or get together that on your way home had you telling yourself; "I wish I had my own beautiful deck."? Well it's not to late to have your deck built this summer and then start planning a gathering of your own!
With top of the line decking materials, accessories and service, Miles Bradley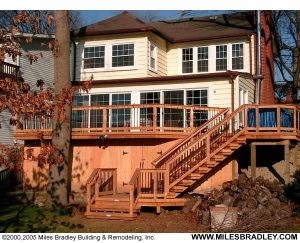 will work with you to have the deck of your dreams built before summer is over. Whether you are looking to have a second story balcony built, or beautiful deck off the back of your home, Miles Bradley has the resources to build you deck in time and within your budget. Small deck? Large deck? Single or multilevel deck? whether you live in Michigan or in Chicagoland it will be No Problem! The deck you have always wanted is a phone call away.
Until August 1st Miles Bradley is offering a free set of six rail lights with photo/cell timer when you have your new deck built. This is a deal you won't want to miss!
Contact Miles Bradley today to find out how soon you can be enjoying the sun on your new deck!