Are you considering moving into a home that already has a deck installed? Deciding which house is right for you can be a tough choice to make.
What are things one should consider upon saying, "I'll take it"? Here are a few helpful deck tips to keep in mind before making a final decision.
Four Things to Ask Before Buying a Home with a Deck:
What is the deck's overall condition? Take a thorough look around the perimeter and "under the hood" of the deck to see what shape it's in. Do not just look at the surface of the deck to check out its health. Make sure that the joists and other components are supporting one another and that the deck isn't decaying, rusting or rotting.
Does the deck meet current building codes? If the home that you're trying to purchase has a deck that is not up to code, this can turn ugly. The last thing you would want to do is to pay a fine for an outdated deck–or even, have difficulty trying to sell your home later on down the road. Be sure to ask your realtor if the deck meets the community's guidelines.
What's the age of the deck? Now, this question is super important to ask. Obviously the older the deck, the sooner it needs to get inspected. Make sure to have the deck inspected (if it hasn't been already) and to ask to see if any part of the deck was replaced.
What type of deck is it? Is it an older composite deck? Or is it a wood deck? Whatever deck it may be, be sure to ask to know how to treat and maintain it so that it can last for a good while.
Maintaining Your Deck
So you've finally found the home of your dreams, but your deck needs a little bit of maintaining, eh? Maintaining your deck takes a lot of work. You have to consider all of the time it takes to power-wash, sand, stain and even, paint. However, once the work is done, it's such a refreshing feeling knowing that your work did not go in vain.
Contact Us!
Are you currently looking for a moving company to help make your move a smooth transition? Men on the Move would be more than happy to help make your move a successful one. Are you planning on getting a deck installed soon? Contact Miles Bradley today to help you get started or to find out more information regarding the deck tips.
Have you ever wondered what the difference was between a deck or a patio? They are very similar but one might fit or look better than the other in your backyard. It is important to understand the differences of a patio and deck in order to make an informed buyer decision.
Decks are platforms made of wood or composite materials. Decks work best if you have a sloped yard and  you want to create a flat area. Homes that sit high above ground are also good for decks. Decks can be built as high as you need them unlike patios.
Patios are normally built on flat ground. They are made of wood, concrete, or flagstone. It is also possible for a patio to built on a sloped lot but building it can be more costly. If your door is ground level, then many people choose to have a patio built instead of a deck.
When deciding to get a patio or a deck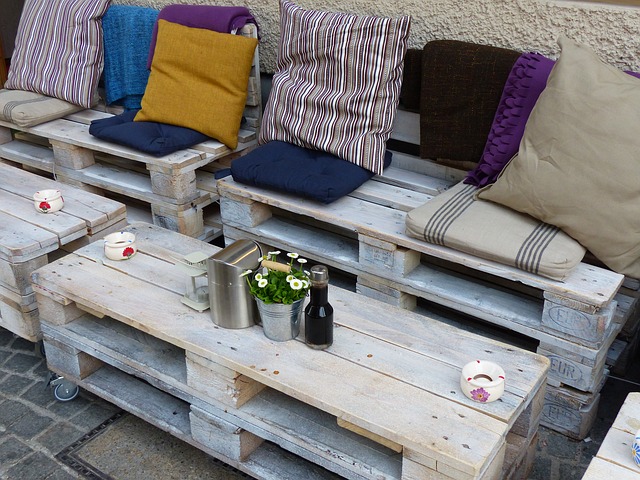 built, you should consider how many people you want it to accommodate and what activities you want to do on your deck or patio. This will help Miles Bradley figure out traffic flow, safety measures, and size estimates. A growing trend in the deck industry is to build a multi level deck with steps leading down to a patio. This is a great way to enjoy the benefits of a patio or deck if you still can't decide which one to get.
Let Miles Bradley in Michigan build your next deck or patio. We have  over 20 years of experience constructing decks on a variety of landscapes. We do great work and have excellent testimonials to prove it. A Miles Bradley deck comes with exceptional workmanship and is built with high quality materials.  Contact Miles Bradley today to start your deck or patio project!
Don't let Halloween pass without decorating your deck. Incorporate your Miles Bradley deck into your Halloween party by using the following ideas.
Turn your deck into a Pumpkin patch 
Deck your deck out with carved pumpkins. Scatter fake leaves and straw to give your mock pumpkin patch an authentic look.  Placing a stack of hay with a scare crow will add the perfect touches. You can make your pumpkin patch look haunted by adding red lights, spiders and fake body parts. You can add fake blood to the body parts and pumpkins to enhance the spookiness of the display.
Candy riddled graveyard
Turn your deck into a creepy candy land. First, get a few headstones and place them sparsely on the deck. Next, grab a few skeletons and place them around the headstones. Add large fake insects and cobwebs to the headstones and to some of the skeletons. Hide candy around the headstones and in other areas of the set up.  This is the perfect activity for your children before going trick or treating. It also is not as scary or gory as the haunted pumpkin patch.
Important: Write down the places that you placed the candy. This is so all the candy that was not found can be picked up.  Protect your deck from the chemicals from decorations that may be hard to remove by using a deck cover. 
Contact us today for a quote on having a new deck built. Be sure to check out our specials.